2006 Events Calender:
Scarecrow Contest Judging 2006 to be held the week before the festival.
Watch for more information and details on this community wide event! , DATE WILL BE UP SOON.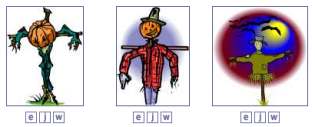 2005 Scarecrow Contest Winners:
CHECK BACK FOR OUR 2006 WINNERS SOON!!!
... a BIG Thank You to everyone who particapated in the 2005 contest!!!!

= NEW for 2006
NOTE: All events and times are tentative and subject to change without notice
WEEKEND LONG EVENTS:

Little Beard Club & Friends Camp
Cake Wheel

Disney Character Cut-Out Pictures
(Mickey & the Gang, Pooh & Pals, and The Muppets) - $2
Silent Auction
& more!!!
Appearances by The Muppets - - Kermit the Frog, Miss Piggy & Bear from Bear in the big blue house

VISIT OUR MANY FOOD AND CRAFT VENDORS ALL WEEKEND LONG! -


Saturday, September 16, 2006:
9am Canaseraga Fall Fest Opens
10am-1pm Cow Chip Bingo
10:30-11 Live Muppet Show
11-1pm MR. BEAU CLOWN SHOW!

12:00pm Class of 2006 Pork BBQ at the pavillion - - YUM YUM
12:30 Parade line up at the school
(Parade from school to park)
NOTE: all are welcome to join us in the parade :)
1pm "Harvesting Community Pride" Parade

2pm "Canaseraga Idol" School TALENTED PERFORMERS competing for prizes!
2pm -5pm Live Entertainment @ The Band Stand

3pm Helium Balloon Release for the Kids
5-7pm Hot air balloon demonstration and tethers (Weather permitting)

Sunday, September 17, 2006:
9am Community Song Service

10am-12pm Open Car Show Registration
(All Makes and Models)
- Entry fee of $7 day of show

12pm-2pm Car Show Judging
1pm The HIT...
Hairy Woman of Klipnocky Beauty Contest
2:30pm Car Show Award Presentation
12pm Class of 2010 Chicken BBQ at the pavilion - - YUM YUM
3:30pm-5pm Live Entertainment
@ The Band Stand

5pm Canaseraga Fall Fest Ends...
Hairy Woman of Klipnocky Beauty Contest 2005 WINNERS:
The 2005 Queen "Beautys" of Klipnocky:
THE HATFIED SISTERS...
THE WINNERS of 2005!!!